Naseeruddin Shah, Shreya Chaudhry and Ritwik Bhowmik take the audience by surprise, in Bandish Bandits.
From a teenager to an adult, it holds them all. Bandish Bandits is in fact a refreshing web series based in the blue city of Jodhpur.
This Amazon Prime Video Original has many scenes which bring us back to our cultural roots – a story which teaches us how to follow our dreams.
Radhe Mohan (Ritwik Bhowmik) is a young enterprising singer who wants to impress his Sangeet Samrat grandfather (Naseeruddin Shah).
Goes without saying that Naseeruddin Shah is the one who rules the series as well, with his brilliant acting.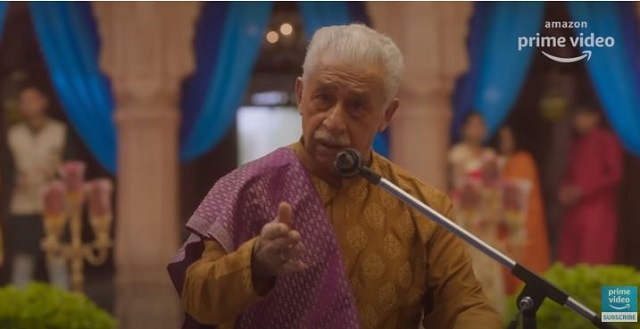 Radhe, who is learning classical music, has all the focus on the music until he meets Tamanna (Shreya Chaudhry).
They decide to work together under the music label Bandish Bandits which then takes the country by a rage.
Family complications give many twists to the tale and hence the story unfolds deep hidden gripping secrets.
Kunaal Roy Kapur who plays Arghya is exemplary in his punches and so is Rahul Kumar as Kabir who plays Radhe's friend.
Atul Kulkarni as Digvijay brings about the depth and awes with his acting quotient. Rituraj as Tamanna's father seems wasted.
Sheeba Chadda however shows some amazing shades as Radhe's mother.
The music is so refreshing and soul touching that it brings goosebumps, especially during a music competition.
---
Radhe a singing prodigy from a classical background and Tamanna, a pop sensation on the rise meet. Radhe's world is turned upside down when he falls in love with Tamanna. Torn between helping her achieve stardom and staying true to his own music and his family's legacy, will he succeed in juggling both or will he lose everything he has?
---
The series has renditions by singers Pandit Ajoy Chakraborty, Mame Khan, Shankar Mahadevan, Dhananjay Mhaskar, Javed Ali, Shivam Mahadevan and Jonita Gandhi.
Garaj Garaj, Sajan Bin, Lab par aaye, Chedkhaniyaan, Viraah, Padharo Mharo Des and the Bandish Bandits theme are soul searching music.
The trio Shanker-Ehsaan-Loy brings a great mix of pop and classical which leads to a great crescendo.
Directed by Anand Tiwari, Bandish Bandits stars Naseeruddin Shah, Atul Kulkarni, Rajesh Tailang, Kunaal Roy Kapur, Sheeba Chaddha, Amit Mistry, Ritwik Bhowmik, Shreya Chaudhry, Tridha Choudhary, Rahul Kumar. Genre: Drama, Romance.
Final Statement
An offbeat series with some very refreshing music compositions, gripping family drama and some outstanding acting, Bandish Bandits takes all by surprise and delivers a great series to be cherished by music lovers.
Director's Note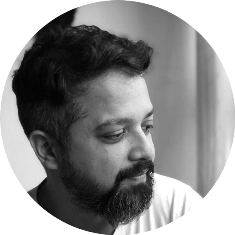 "I'm so excited and so nervous at the same time!"
Anand Tiwari, Director, Bandish Bandits