Modern Love is a weekly column in The New York Times, a book, a podcast — and now, in its 17th year, a television show — about relationships, feelings, betrayals and revelations.
---
Love in the 21st century is mutating to adapt to our changing lifestyle. The last two years have been a lesson to anyone who thought they knew everything about love.
The Covid-19 pandemic did not only pose healthcare challenges, but it also dumped a barrage of social and economic insecurities on us.
With the loss of physical touch, the expression of love changed from intimate hugs and kisses to socially distanced interactions.
Families were estranged, couples were stuck in different places, and friends were unable to spend time together.
The pandemic forced us to rethink and reinvent the concept of love. It made us question our understanding of love and relationships.
Perhaps we never tried to find the many meanings of love!
Modern Love on Amazon Prime Video released its second season in August 2021, just after the second wave had hit the world.
It is an anthology of stories from The New York Times column of the same name and a much-needed lesson on love.
It explores the depths of human emotion and the universal experiences of running into an ex, falling in love with your best friend, a meet-cute between two strangers.
It has released two seasons so far with each story focusing on different shades of love- familial, romantic, companionship.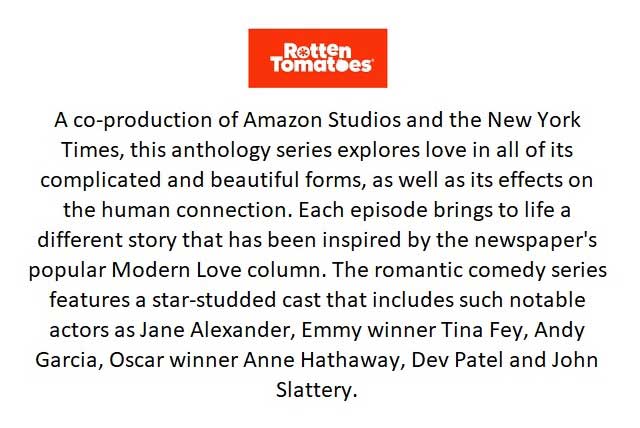 Modern Love is an image of modern-day relationships. The season 2 episode How Do You Remember Me? is a running into an ex on a street situation.
While the two people walk across each other, the first date is shown from the perspective of both parties. It makes us realize that the same moment can be experienced by two people in different ways.
The episode titled Strangers on a Train takes us back to the early days of the pandemic. The two strangers meet on a train and leave with a promise of meeting at the same spot after a few days.
Fate intervenes and an extended lockdown is implemented. The questions – Are they meant to be together, or Did the lockdown prevent them from a beautiful love or a horrible love, are just the rephrased form of our daily enquiries about love.
In Season 1 episode Take Me as I Am, Whoever I Am, Anne Hathaway plays the role of a woman suffering from bipolar disorder. She experiences extended episodes of mania and melancholia and believes no one will be able to understand her.
---
Amazon Prime Video to adapt 'Modern Love' in three Indian languages
---
While the episode shows her seeking romantic love, it culminates with a beautiful bond of friendship between two women. It shows the need for self-love before seeking it from others.
Modern Love is a masterclass in the subject of love and the sacrifices we make for people we hold dear. The background score is a cherry on top with tracks like Setting Sail, Perfect Perfect, Break My Silence, and many more.
In an interview the creator of the series, John Carney said, "The more data you have on love the less you know."
Modern Love is cold yet endearing, simple yet complicated, frigid yet passionate!