Sex and violence that you get to see in Amazon Prime Video's Mirzapur web television series seem more like a well thought plan by the entertainment company, than to create some great content to match its over the top competitor Netflix.
Mirzapur is a north-central Indian city in country's populous State of Uttar Pradesh which boasts of monuments like Agra's Taj Mahal and holy city of Varanasi which is also the constituency of Prime Minister Narendra Modi.
Quite thoughtfully, the makers of Mirzapur web television series filled all its nine episodes in Season 1 with sex and violence that do not define Mirzapur city or explain its characteristic, or for that matter any other Indian town like the one shown in Anurag Kashyap's film Gangs of Wasseypur (2012).
Like the Indian news television which has exaggeration in its DNA, Mirzapur will find its audience in those houses which love exaggeration of events. It may also get likes from people hailing from Uttar Pradesh or its nearby States just for the sake of its title – Mirzapur.
On the other hand, the message in Mirzapur television web series is clear and loud that sex and violence are the prerogatives of the rich and mighty and that every Indian city has its own Pope, just short of a Godfather.
Produced by Farhan Akhtar's Excel Entertainment and directed by Karan Anshuman, Gurmmeet Singh, Nisha Chandra and Mihir Desai, Mirzapur has been planned well as an engaging web television series about two brothers who study in the same class despite their age gap and then they land into the army of a muscleman.
The brothers – Guddu (Ali Fazal) and Bablu (Vikrant Massey) – sync well with the plot despite the confusion as to when did they suddenly become ace sharpshooters, abandoning their studies and gym.
The brothers immediately become trusted lieutenants of the local Pope Akhandanand Tripathi (played by Pankaj Tripathi), and then go on to play the role of their master's fixers even at the cost of sidelining the apparent heir to the mafia empire of Mirzapur.
The heir apparent Munna (Divyenndu) is the game changer in every episode of Mirzapur as he ensures that people must hate him for his cruelty or foul mouthed abusive language that he has been tied to.
It is Munna who gets the opening scene in the very first episode and it is again Munna who continues to call shots as the Season 1 concludes in its 9th episode.
As for the casts, the brothers have their love in Sweety (Shriya Pilgaonkar) and Golu (Shweta Tripathi) who manage well with their supporting roles. So does their sister Dimpy (Harshita Gaur) and the cop Ram Sharan Maurya (Amit Sial) who are perhaps the only persons in Mirzapur who do not feel intimated.
However, other good people in all nine episodes, for example Ramakant Pandit (Rajesh Tailang) – the father of the two brothers Guddu and Bablu, get poor treatment in Mirzapur.
Similarly, Kulbhushan Kharbanda who had joined the Bollywod wagon with the unforgettable character of Shakaal in film Shaan, is wasted despite being the head of the ruling Tripathi clan. Other supporting casts do not deserve a mention in this anti-hero series.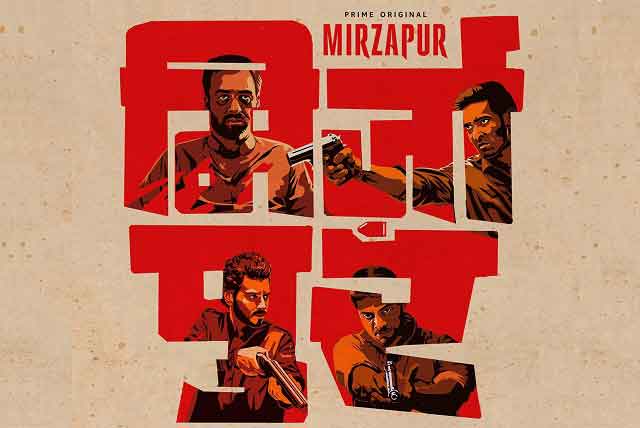 Even Pankaj Tripathi as Akhandanand Tripathi alias Kaleen Bhaiya fails to click as unquestioned central character around whom the entire 9 episodes of Season 1 of Mirzapur is woven.
Neither can he sell gun or carpet all by himself nor would the storyline allow him to neutralize his opponents shrewdly. Maximum, he can get some policemen killed. Poor he. No wonder his wife (Rasika Dugal) slaps him in almost every episode.
Will Amazon's Jeff Bezo conquer over one billion of television viewers in India with this stuff which is neither real nor unique? What the audience needs to be told is – mafia does not rule Indian cities, anymore. Gabbar Singh is dead, Shakaal is dead, Mogambo is dead. How come Kaleen Bhaiya is alive, still?