It's Holi 2022. Are you still looking for the perfect place to play Holi? Go to Samruddhi Resorts.
The resort in Hosur, near Bengaluru, is ensuring the safety of guests as top priority while offering a full package that includes dhol, gulal, flowers, dance, and sweets.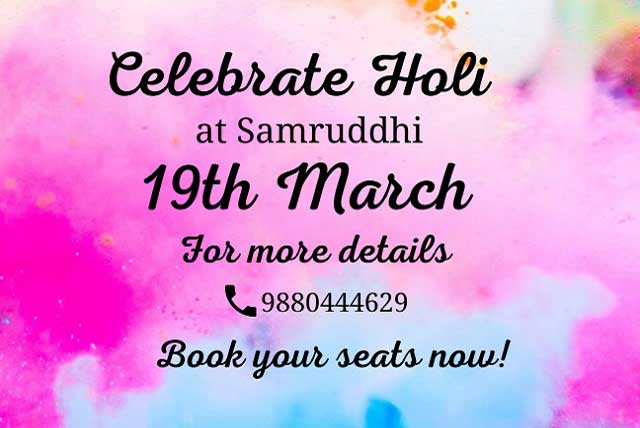 You have to just pay the entry ticket at an affordable price of Rs.1500 for the mega bash at the world-class vacation retreat with a serene natural background.
Buckets and pool of coloured water, vibrant vibes of carefree fun, and a splash of colours await you at the drive-to destination which has opened all its doors and windows for you.
Yes, it is time to rejuvenate and feast on the sweet essence of life because Holi is here. Do not miss the colours of life.
Many of us living away from home dread the thought of spending Holi alone. After all, Holi is a celebration of all things good with your families and friends.
Spend Holi this year with dhol, gulal, flowers, dance, and delicious sweets just like the good old days. Samruddhi Resorts has saved a piece of those wonderful moments for you!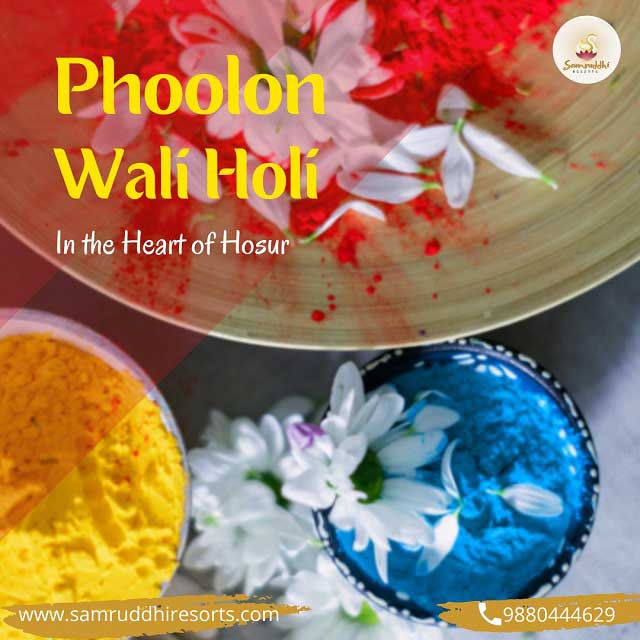 The organisers say the Holi party will transport participants to a world soaked in pure joy and fantastic fun.
Equipped with natural colours, scrumptious food, mind-blowing music, and desi ambiance, Samruddhi Resorts is the perfect place to be at and have a colour-soaked spectacular mainland Holi feel.
The party has an amazing line-up of games, DJ, Dhol, Rain Dance, and mouth-watering food like sizzling BBQ, luscious Matar Paneer, rich Chicken and Mutton, refreshing Thandai, and sweet Gujiya.
Get your fun group together and beeline to Samruddhi Resorts to paint the town in all possible hues of a rainbow. Create a memory with the people you love! Celebrate Holi with Samruddhi Resorts.