Spa Ceylon – Sri Lanka's premier spa lifestyle brand – is claiming itself to be the world's largest luxury Ayurveda chain. It already has two branches in India – in Hyderbad and Mumbai.
Backed by four major awards at the prestigious World Luxury Spa Awards 2018 annual gala held in Belfast, Ireland, the brand is now launching across Europe from Russia, Bulgaria and Romania to Poland, Switzerland and Germany.
Its online products are already priced in Indian rupee to attract Indian buyers. Clinching global awards for the fourth successive year, Spa Ceylon won the Global Award for Best Luxury Spa Group, the Continent Award for Best Luxury Ayurveda Spa and the Regional Winner for Best Luxury Urban Escape & Best Spa Manager.
Spa Ceylon's Indian outlets are offering Treatment Oils, Massage Balms, Massage and Bath Oils, Essential Oils, Cleansing Bars, Exfoliating Bars, Shower Gels, Body Scrubs, Body Packs, Milk Baths, Body Lotions, Moisturizing Balms, Body Mist, Soothing Balms, Foot Care and Herbal Compress.
---
Spa Ceylon captures the romance of old Ceylon combined with ancient Ayurveda wisdom to create their range of majestic spa rituals and royal spa formulae designed to soothe, calm and relax the body, mind and soul.
---
The World Luxury Spa Awards is acknowledged as the world's foremost platform for recognizing excellence in the global spa industry, which spans 140 countries and sets the benchmarks in quality, innovation and service for spas around the globe.
It is established as the world's leading awards initiative for luxury spas. Awards are presented on a country, continent and global basis based on the votes and evaluation of global spa-goers and industry experts. The winning spas are considered the top tier of the international luxury spa industry and are promoted globally by the World Luxury Spa Awards.
According to Spa Ceylon Managing Director Shiwantha Dias, Spa Ceylon has focused on providing innovative, high performance Ayurveda based wellness products and services in promoting everyday wellness. "We believe our success has been in identifying the wellness needs of our global clientele and are committed to keep evolving our offering to suit their needs."
---
Spa Ceylon produces over 450 all-natural Ayurveda inspired personal care, wellness, fragrance, gourmet beverages and air care products. Their complete range comprises prestige skin, body, bath, scalp and hair care preparations, oils, balms and potions, room aroma blends, candles, diffusers, incense, herbal infusions and teas, handmade stoneware, bath accessories and a range of tropical resort-wear.
---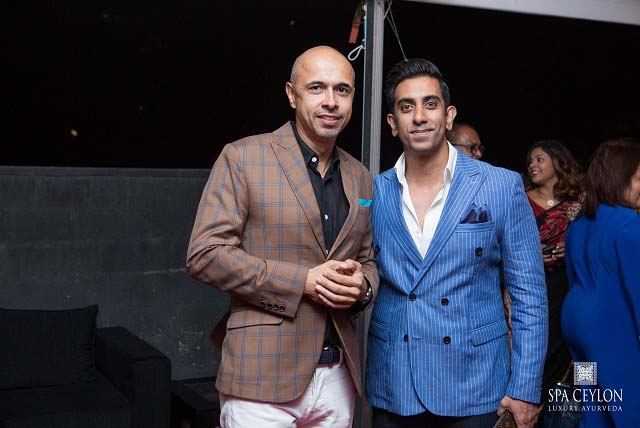 Speaking at 'Turnaround; Shifting Gear from Slow to Fast Track' forum at Ceylon, Co-founder and Director Shalin Balasuriya said, "Small and Medium Enterprises (SMEs) and entrepreneurs should come forward and make an effort to build brands, especially brands which can go global. We did that despite policy and political changes happening in the country over the past several years."
---
The Spa Ceylon Story: Founded in May 2009 by brothers Shiwantha Dias and Shalin Balasuriya, 'Spa Ceylon' has fast become a dynamic force in the global luxury wellness sector and has taken its luxury Ayurveda brand to the world, with a global presence of branded stores and spas situated in Ginza Tokyo and Fukuoka, Japan; Melbourne, Australia; Singapore; Seoul and Ulsan in Korea; Kuala Lumpur, Malaysia; Istanbul, Turkey; Mumbai and Hyderabad in India; Karachi, Pakistan; Nicosia, Cyprus and across Sri Lanka. Spa Ceylon also operates in Ukraine, the Maldives and the US.