Social activist Deepak Sharma is all set to launch his debut book Wings to Fly on July 29. Published by Chennai-based Notion Press, the book covers his journey from humble beginnings to highest peaks of his corporate career and then to a completely new phase of his life where he devoted himself to the cause of caregiving.
Having worked in esteemed institutions like NTPC, BSES, ABB, Alstom Power and TATAs, Deepak Sharma discovered the true passion of his life after visiting Missionaries of Charity in Calcutta in 1996, the experience of which he describes as 'heart-wrenching' and 'very touching'. This excursion anchored Deepak Sharma's flight in a totally new direction and he gradually began immersing himself entirely in the act of 'returning' to the society.
Deepak Sharma's book Wings to Fly covers the span of his childhood, adolescence, and adult years. The book takes the readers through the thick and thin of his life and develops a personal connect to the extraordinary story of an ordinary boy who finally got his wings to fly on being associated with the Non-Government Organization (NGO) Udayan Care.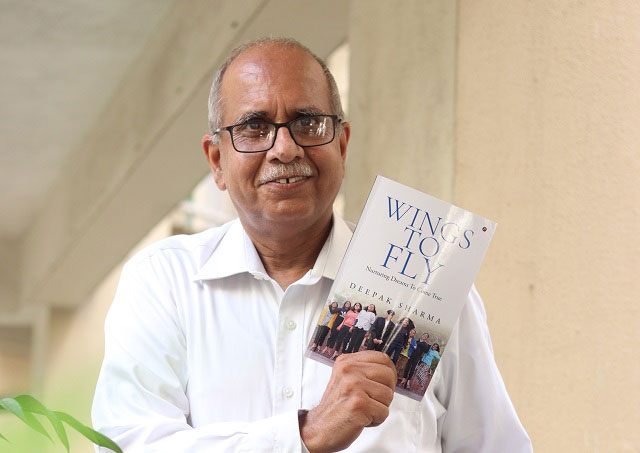 Headquartered in Delhi, Udayan Care functions under the able leadership of Dr. Kiran Modi and works towards the principles of empathy, education, and empowerment of the underprivileged strata of society. Deepak Sharma joined Udayan Care as a part time volunteer in 2009 and ardently devoted himself to the organization since 2013.
Deepak Sharma has left a remarkable imprint wherever he has travelled and whoever he has met. In fact, Wings to Fly is the result of the same. Greatly impressed by his enthusiastic spirits of giving back to the society via the noble cause of charity and caregiving, Deepak Sharma's friends motivated him to tell the tale of his astonishing journey so far.
The book is all set to launch in New Delhi at the India International Centre, at 2 pm on July 29, 2022. Dr. Neerja Malik (Cancer Counsellor and Author), Anil Sardana (MD and CEO, Adani Transmission Limited) and Dr. Kiran Modi (Founder and Managing Trustee, Udayan Care) will be the Guests of Honour on this occasion.
Once released, Wings to Fly can be purchased from Amazon, Flipkart and Notion Press.