'Attention electric vehicle dealers!' – says leading steel pipes company Dadu Pipes, in the run up to RideAsia 2023 exhibition being held at Pragati Maidan in New Delhi from April 14-16.
RideAsia is a flagship event for Indian and International industry for E – Vehicle, E – Bike, Cycle, Sports and Fitness equipment manufacturers.
Dadu Pipes plans to attract visitors from wide spectrum of manufacturing and ancillary industries including key decision and policy makers who are keen to source latest technologies for their products.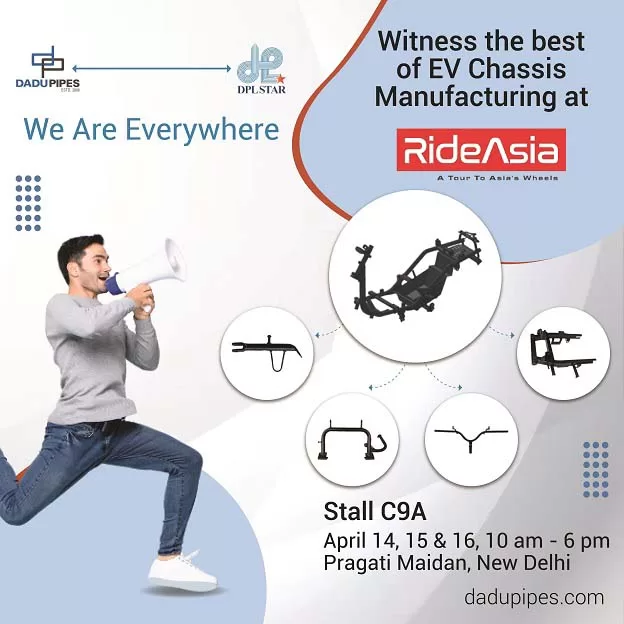 "We are ready to demonstrate our capabilities at the mega event where E – Vehicle fraternity is converging from all over the world," said Vinod Bhat who heads the automobile division of Dadu Pipes.
"It has always been our endeavor to gauge consumer reactions and showcase our manufacturing solutions, and RideAsia event is happening at the right time when business owners are looking for new opportunities in E – Vehicles and E – Bikes," he said, adding, "A host of new EV startups have approached us to enter into E-vehicle manufacturing and we are ready with a variety of different economic models to help them create and sell their new electric vehicles."
At RideAsia 2023, Dadu Pipes company is entering the world of electric vehicle manufacturing. To know more, call +91 9205600128 or write to vinodbhat@dplstar.com
Dadu Pipes strongly believes in innovation and latest technological advancements which trigger businesses to new heights to compete in the market, he said.
He said pipe is a primary component for two-wheeler chassis and being in the pipe industry for over 17 years, Dadu Pipes is a notch above other chassis manufactures.
Dealers, distributors, importers and entrepreneurs looking for business opportunities in E-Vehicle industry have already elicited good response to tap on Dadu Pipes for cost-effective Chassis manufacturing.
According to consultancy firm Deloitte, manufacturing is no longer simply about making physical products. Changes in consumer demand, the nature of products, the economics of production, and the economics of the supply chain have led to a fundamental shift in the way companies do business.
As a leading steel pipes making company, Dadu Pipes operates with various materials, products and resources to produce a variety of distinctly diverse products.
Founded in 2006, the company is expert manufacturers of high-quality ERW Black Steel Tubes, Structural Tubes, Scaffolding Tubes, Steel Tubes for Oil & Gas, Water and Sewage, Tubular Poles, and Hollow Steel Section.
Bhat said Dadu Pipes has positioned itself at Stall No. C9A at the RideAsia-2023 where the industry will witness its high-quality and affordable E-vehicle chassis manufacturing capabilities for 2-wheelers.