Use Magnetista wisely, says Oriflame, adding "That's the real beauty of empowerment – you can choose to do whatever you want, with whoever you want. You just need to first win the attraction game."
In a marketing gig – How to win attraction game, Oriflame says its 'powerful fragrance' which has been tested and proven to attract men's attention, should be used as a secret weapon.
Oriflame encourages women to 'pick' their 'target' and do the 'first thing first'. "Is it the man of your dreams who is always surrounded by others wherever he goes? Or maybe you just want to get the attention of a tough business crowd? Whoever they are, you need to stay focused on them," it says.
Further, it provokes women not to punctuate but to choose the right moment, saying "You might only get one shot at this, and we all know first impressions count, so timing can be everything."
"Think about when the best moment, or place, could be to get their attention. There's only one golden rule here: the earlier, the better."
From automobile companies like Ford to food chains like Nando's and Burger King, female bodies have been put to over sexualization for advertisement purposes. Extremely insensitive advertisers apparently believe in the mantra: Sexism Sells.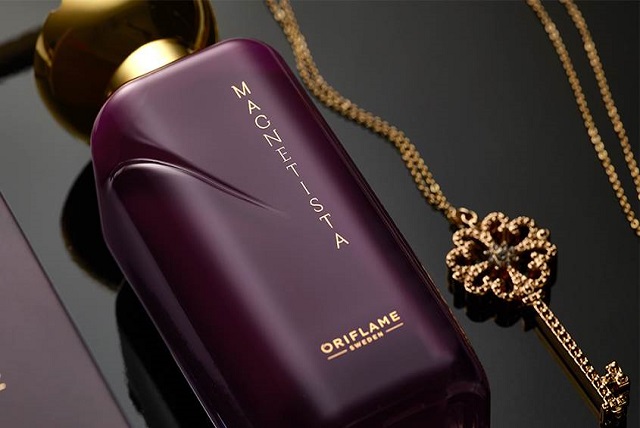 Likewise, sexism and racism are not new to cosmetic brands. The insensitivity is so ingrained that one of the most popular cosmetic products in India is named 'Fair & Lovely'.
While people of colour have always struggled to bag cosmetic products of their matching shades, celebrities like Kareena Kapoor Khan launched least inclusive contouring pallets.
Another thoughtlessness of most cosmetic brands all over the world is to only entertain women as their primary customers.
Peppered with such irrationality and even more misogyny is Oriflame's latest venture- Magnetista.
Ever since its launch, Oriflame has campaigned how Magnetista, "an irresistible scent", is scientifically proven "to trigger emotions" and "get his attention".
Ironically, Oriflame has also celebrated Magnetista in their catalogue of Women's Day edition, as a perfume that is "clinically proven to attract the attention of 2 out of 3 men tested".
How difficult is it after all, for a brand to understand that the only aim in a womxn's life is not to impress everyone around, especially men?
When will womxn finally be acknowledged as individuals and not mere objectified beings by advertisers?