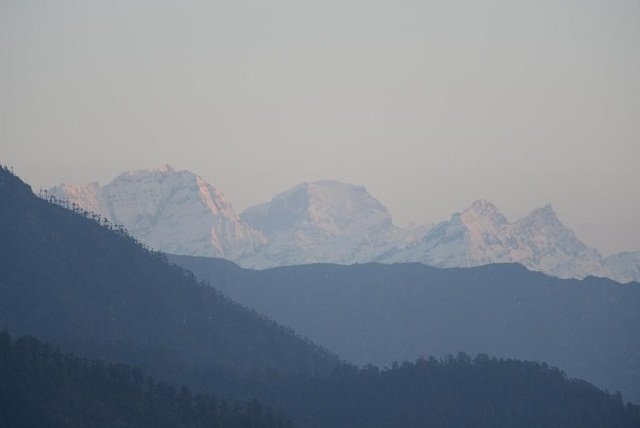 Bhutan, a tiny landlocked country in the foothills of Himalayas is the happiest nation in the world. I would recommend a flight, direct from Delhi, Kolkata or Mumbai. It's a one hour 45 mins flight to Paro from Delhi.
Druk Air and now Tashi Air have direct flights. You can reach there by road too but I would not recommend that, as it involves long hours of driving in the mountains and road permits.
Upon reaching Paro, Indians don't need a visa prior, you can get your passport stamped at the airport.
You can stay for a night at Paro to witness amazing landing or takeoff at the Paro Valley.
The Tigers Nest Monastry –Taksang, is the ultimate trek 3 hrs up and 2 hrs down.
One can stay at the Aman (which is a costly affair), Ziwaling or Kitchu. Paro too has a dzong and a Kitchu Monastry to visit.
Do try the Bhutanese stone bath after this trek, the minerals from the baked stones do wonders and relaxes you at the same.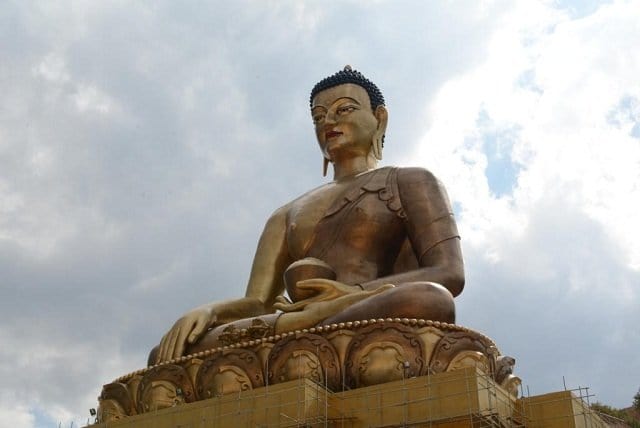 An hour's drive the next morning and you are in Thimphu, the capital.
The Trashichodzong, which is an administrative and religious fort that you will find in every Dzonkhag (district) is a must see.
You may visit the Chorten (The Stupa) and get a breathtaking view of the Thimphu Valley at the Buddha Statue. You can cover this in a day.
Taj, Meridien, Aman are some 5 star hotels that you can stay at, where Indian food or even vegetarian won't be problem.
Druk hotel serves very good Indian food, must try. You can also eat at Mezze, Upstairs and Seasons Pizzeria for food other than Indian. Other hotels are Galinkha and Druk.
The everyday Bhutanese food includes ema datshi which is green chillies cooked with cheese along with brown rice.
Tango and Chari are other two hikes that one can do which are again, an hour and half up and down. The Takin Zoo is open all days to look at amazing animals.
This will take up roughly a 3-night trip but if you have four or more days, you can rent a car and drive up to Punakha, 2 and half hour from Thimphu which is the winter capital.
See the Dzong there, it's a great place for white water rafting and camping. And you do need a permit to go up to Punakha, beyond Dochula, so apply for one as soon as you reach Bhutan.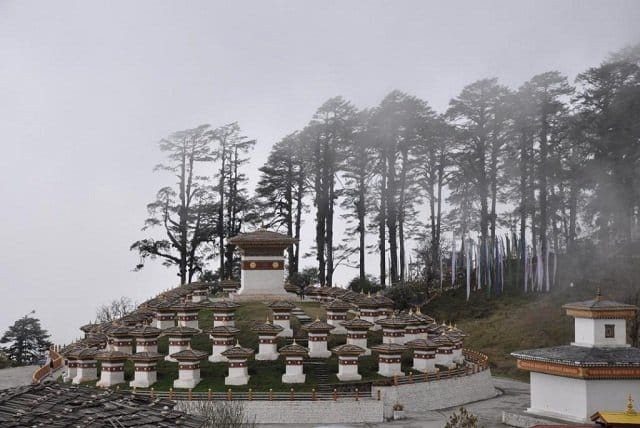 Another 4 hours ahead and you can stop over at Gangtey, the Phobjaka valley. It is a very pretty valley which is home to the black necked cranes in the winter. Hotels there are Aman and one or two budget 3 star hotels.
If you have 7 or 10 days, you can drive all the way up to the central east part to Bhumtang (The Swiss hotel, Aman and many more hotels are there to suit all budget needs), and then to Ura stopping by at The burning Lake. The Rhododendrons fill up the mountains in the summers.
September is the month for Tsechu Festival in Thimphu, where one can see the customs and traditions of this beautiful country and even steal a glimpse of the Royal Family.