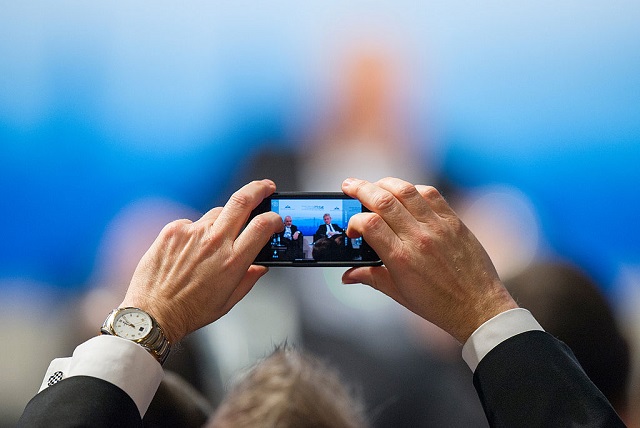 The new age has arrived, thanks to smartphones.
Smartphones are so dominating our lives that everyone seems to be looking for that perfect phone.
Whether you're a mobile-tech expert, novice or somewhere in between, companies from America to China have a wide selection of smartphones.
It is another fact that Indian Government is advising public servants to choose from Made in India phones.
High alerts are also pending against some foreign brands on account of data security.
The United States is already accused of reading phone data of world leaders.
But even at our ends, somewhere along the line there is a huge lack of trust when it comes to smartphones.
Thus, the new technology is creating barriers also. Do you share your smartphone with someone?
Everyone has one's individuality stamped on smartphones
Earlier, anyone could use anyone's phone. Today, everyone has one's individuality stamped on smartphones, be its use or data in any form – photos, videos, messages.
For many, smartphones have become a status symbol and also the deciding factor to determine how advanced you are.
True, smartphones connect you well and have made communication easier, but they have also impacted our lives in a manner that we are constantly on the hook.
Aren't you available now 24×7? Aren't you reading your mails all the time? Aren't you hanging on the social media apps checking updates?
You're now bombarded with all kinds of forwarded messages
And thanks to free messaging and telephony services like WhatsApp, Hike, Viber etc, you are being bombarded with all kinds of forwarded messages which travel from one smartphone to another without any purpose.
Worst. A good morning and a good night message from any Tom, Dick and Harry is annoyingly becoming mandatory that should be cause for concern in the New Year.
You may say one should not download such features or apps in smartphones that create cobwebs but then, the smartphones are addictive enough, so much so that one gets crazy in the head when the wonder phone goes for repair.
All said and done, the new age machine is a blessing in disguise for sure. No wonder there is a brand war going on to capture the market.
You better leave these companies to compete among themselves for they are working overtime to bring new features for you with new generation phones.
After all smartphones are not just mobile phones anymore. They are new phones with an operating system with a camera, global navigation unit, wi-fi, payment gateways, touch screen media players and… what more!