Intuit is buying email newsletter platform Mailchimp for about $12 billion in cash and stock. Both the companies announced the deal, in separate statements.
Intuit, the global technology platform that makes TurboTax, QuickBooks, Mint, and Credit Karma, said it has agreed to acquire Mailchimp – a customer engagement and marketing platform for growing small and mid-market businesses.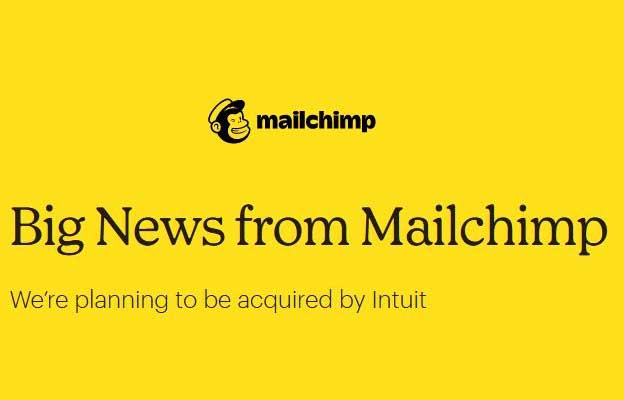 The planned acquisition of Mailchimp for approximately $12 billion in cash and stock advances Intuit's mission of powering prosperity around the world, and its strategy to become an AI-driven expert platform.
With the acquisition of Mailchimp, Intuit will accelerate two of its previously-shared strategic Big Bets: to become the centre of small business growth; and to disrupt the small business mid-market.
Mailchimp began by offering email marketing solutions, and evolved into a global leader in customer engagement and marketing automation fueled by a powerful, cutting-edge AI-driven technology stack.
Mailchimp, whose automated marketing products help businesses reach consumers through email and online channels, generated sales of $800 million in 2020.
Atlanta-based Mailchimp has 13 million users and traces its origins to a web design agency called the Rocket Science Group, which was founded in 2001 by Ben Chestnut and Dan Kurzius.
Intuit was founded in 1983 by Scott Cook and Tom Proulx and went public a decade later. Its CEO Sasan Goodarzi said, Mailchimp has a lot of customer data while Intuit has all the purchase data. "The magic is putting these two together."
Together, the two firms plan to help companies market their businesses online, manage customer relationships and access capital.
"This is an exciting new chapter for Mailchimp, our 1,200+ dedicated employees, and customers," said Ben Chestnut, CEO and co-founder of Mailchimp, in a statement.
"Since day one, setting our customers up for success has been our top priority, and we're confident that our acquisition by Intuit will advance that mission and secure the legacy of support for small businesses that we've built over the last 20 years," he said.
"While our ownership will change once the transaction closes, which we expect to happen prior to the end of Intuit's second quarter fiscal 2022, our platform will stay Mailchimp through and through: the same user-friendly products and tools, the same resources and support, and the same brand you know and love. In fact, our goal is for all of these things to get even better as part of Intuit," he added.
Morgan Stanley & Co. LLC is serving as Intuit's financial advisor and Latham & Watkins LLP is serving as its legal advisor. Qatalyst Partners is serving as Mailchimp's exclusive financial advisor and King & Spalding LLP is its legal advisor.