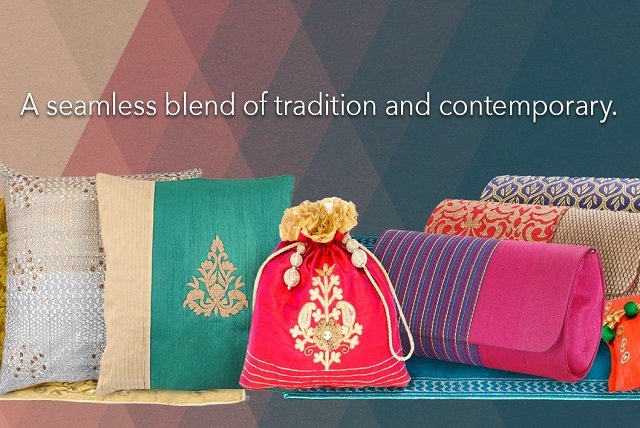 I think there are worlds within worlds. And we all live in a world of our own making. Part of it is real, part of it is perception. We go along our own orbits, not realising but carrying around us a ring that includes some and excludes the other.
But, sometimes, just sometimes some peripheries intersect and our worlds expand. Two different centres collide and the horizon changes. From two sub sets it becomes one universe. Sometimes the effect happens in a second and sometimes it takes years.
The locus of Tarusa was defined many years back. NIFT, A.D. faculty in the initial years was pre-dominantly from NID with a very strong inclination towards the craft sector. To my great fortune I was part of a month long workshop organized by NIFT and Dastakar. (Dastakar is a pioneer organisation that has infused life into some of the richest yet dying art forms and craft skills of the country).
At the workshop I was assigned to work with two crafts. One was metal bead making from Orissa and the other was leather craft from a village in Rajasthan. It was a life defining experience but I didn't know it then.
We did some work, presented it and that was that. A sparkling experience and another area one briefly skims over during any training phase.
After my course got over I moved from Delhi to Mumbai and there began a long struggle to find my feet in the diamond jewellery industry. Being from an accessory design background and Mumbai being a diamond hub I thought it to be the most natural choice. Rootless and without any guidance in an unorganised sector the walk was extremely challenging.
Amidst a fluctuating career graph my pride and joy knew no bounds when I found bits and pieces of my beads jewellery in places like Bombay Stores, Chetna and other premium craft oriented spaces. Of course no one knew that I had been a small part of the process that resulted in the development of those pieces. But, it mattered not. It gave me great pleasure to see those pieces selling for years.
Almost 10 years hence came a call came from NID (National Institute of Design). Mrs. Shimul Vyas, a leading and most respected professor called me to attend a workshop at the Ahmedabad campus. I literally jumped at the opportunity.
To my shock and surprise I found the same group of people as I had worked with approximately ten years back. The master craftsman (I am ashamed to admit that I have lost his contact numbers again) and we had a long discussion about the results of what had been done in the previous workshop.
It was not just me he remembered. He could recall quite a few of the people who worked with his group, lest I give the impression that I was the only one doing good work.
Going back to our narrative. You know what he told me ' aap kuch waisa hee kar deejiye, humme hazaaron pieces ka order mila tha". ("Please do something like you did earlier, we got orders for thousands of pieces.")
I cannot find words to describe that feeling. I cannot thank Shimul enough for making me a part of the workshop. It has been one of my most cherished moments. The kind, where destiny calls you and shows you, where you belong. The kind, that you remember when you shut your eyes, out of sheer disappointment and need a crutch.
I have no shame in confessing that I cried. I don't know why but I cried. Not once but many times. There were tears of joy, tears of pride and frustration cause I was so completely entrenched in the pursuit of Gold (both literally and figuratively speaking).
They say that the sum total of any life can be compressed into a few moments. And for me this was one. Do not get me wrong – At Tarusa we want to be commercially successful. We want to be a very very known name. We want everything that any organisation would want. But we also want to re-find the value of the human artistry.
We want that our legacy finds new expression; little tales that hide in the old local arts is retold. We so want to understand all the layers that make a technique a legacy and make a motif a symbol. Over and above everything else we want that the people we work with are just a bit happier.
Team Tarusa is happy to have taken the first stumbling bumbling baby steps. We are thrilled to be at the intersecting point of these two worlds and hope to become a nodal point that keeps them together.