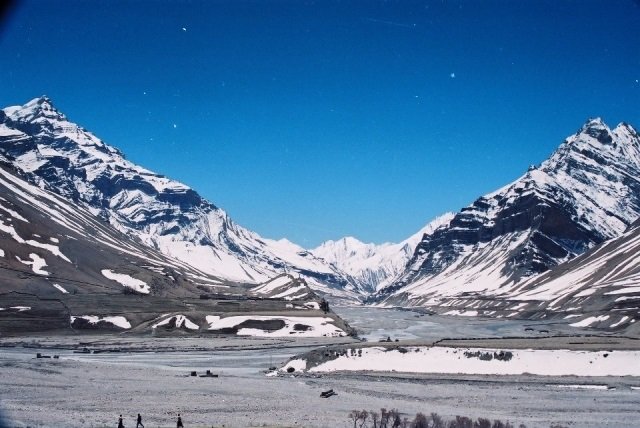 I have captioned this image as 'Meeting point'. You can see two monks and a traveller pass by the junction where the Pin river joins the Spiti river.
Like you, my first brush with geometry and the Pythagoras theorem was during school days. While I struggled then, in my adulthood I realized the magical beauty of some of the shapes when I saw them in the real world. One of them was the triangle created by nature in Spiti.
During the rainy reason (end-June to end-August) I urge you to visit this region in Himachal Pradesh.
The snow-clad Shila peak points sharply to the heavens up above! It also provides a breathtaking backdrop to Langcha-Hikkim village, which is just below it.
To reach Spiti will involve a long and arduous mountainous road journey through Himalaya and trans-Himalaya cold desert regions. You can start from: Manali, Shimla or Chandigarh.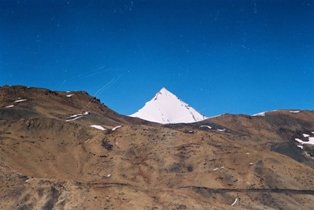 This journey itself is a reward.
A high-altitude region (10,000 ft+) it is spread across several valleys and dotted with peaks & villages. The Pin and Spiti rivers flow through it.
You'll also get an opportunity to pass through Kinnaur. Like me, you may want to trek to Chandratal and gaze at it in bewilderment on reaching the shores of its azure blue waters. The mountains see their mirror-image in its placid waters.
And then, the Kee gompa is so dramatically situated that you would simply gape at it in disbelief.
On way to villages sometimes, a pile of sheep-horns indicate you the route. The brick-coloured Komic gompa with its yellow-painted roof is almost situated at the end of a secluded place.
Not very far from Kaza, and well connected by road is Kibber, supposed to be the highest inhabited village in the world.
The children of Spiti will undoubtedly remind you of the innocence and unfettered freedom & joy of childhood so deeply cherished by us all.